If you're having trouble viewing this email, you can see it online.
Soledad O'Brien to Host Prestigious Golden Mike Gala on March 6 in NYC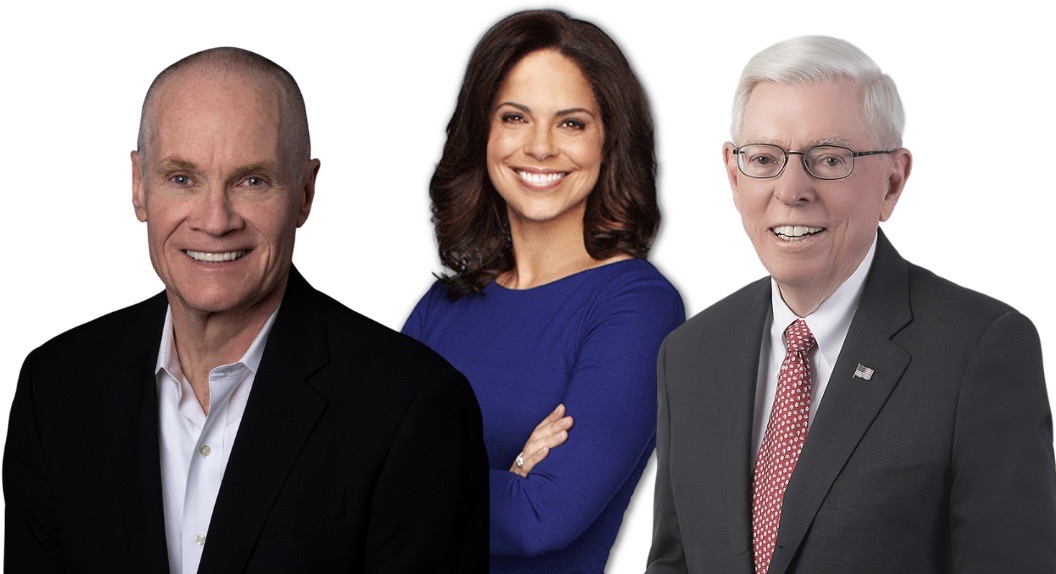 Broadcasters Foundation of America is proud to announce the host for this year's BFOA Golden Mike Award gala and ceremony will be EMMY Award-winning broadcast journalist and nationally syndicated talk show host Soledad O'Brien. The 2023 BFOA Golden Mike Award gala will take place Monday, March 6, at the Plaza Hotel in New York City. The annual event is the biggest fundraiser for the Broadcasters Foundation, whose sole mission is to provide aid to radio and television professionals in dire need.
O'Brien currently hosts the nationally syndicated Matter of Fact with Soledad O'Brien, which is produced by Hearst Television. She has anchored shows on CNN, MSNBC, and NBC, hosted projects for Fox and A&E, and contributed to Oxygen, Nat Geo, the PBS NewsHour, and WebMD.
As previously announced, this year's BFOA Golden Mike Award honoree will be Jack Abernethy (left), Chief Executive Officer of FOX Television Stations. The Lifetime Achievement Award will be presented during the gala fundraiser to Richard E. Wiley (right), former Chairman, Commissioner, and General Counsel of the Federal Communications Commission (FCC) and one of the most prominent media and telecommunications lawyers in broadcasting.
Look at Who's Supporting The Broadcasters Foundation
The month of February contains some of the biggest moments on the sports calendar. The Super Bowl sits at the top of that list, but other major events across the sports landscape also draw the attention from millions of fans. Consider just a few more -- the NHL All-Star Game, NBA All-Star Weekend, and Daytona 500 -- and you can understand why television and radio stations/networks are jam-packed with sports content and debate.
The Broadcasters Foundation is fortunate to partner with some of the biggest names in sports broadcasting, such as Stephen A. Smith (ESPN), Nate Burleson (CBS/NFL Network) and Mike Greenberg (ESPN), to name a few. These popular broadcasters are helping to promote our mission of assisting men and women in the radio and television broadcast profession who find themselves in dire financial need due to a critical illness, severe accident, or other serious misfortune.
The videos below provide a brief glimpse into their support of broadcasters in need...
Why Support The Broadcasters Foundation of America?
BFOA TESTIMONIALS
"I found myself in financial trouble, like many former radio people, with no savings or retirement. Then the health problems began, and I couldn't even afford to visit my doctors.
"Thankfully, a fellow radio friend saw I was in trouble and helped me get help from the Foundation. They came to my rescue, and I now literally depend on them to help with my medical, car, and rental expenses. The monthly support I receive from the Broadcasters Foundation is literally keeping me alive. I would be homeless without help from the Foundation.
"Needless to say, I am very grateful to the Broadcasters Foundation of America for their steadfast support!"
-- Former Radio Professional
"Uninsured and suffering from painful, debilitating diseases, I disappeared from the airwaves and exhausted my life savings in a few short years. My once-limitless prospects plummeted to dim, then to grim.
"Ultimately, the people at the Broadcasters Foundation of America prevented my homelessness and provided life support. My gratitude cannot be quantified or qualified with words. If anyone has ever saved your life, you will understand how I feel."
-- Former Broadcast News Correspondent
Share your stories with us! If you have a narrative to share about your station, employees, or community, please feel free to send it to us at news@thebfoa.org.